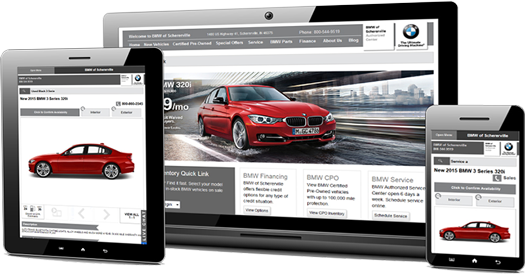 Tech Prime Web introduces its Auto Dealership Solution listing manager which means we can have you up and running with minimal costs but with all of the functionality of a great auto dealership site. Tech Prime Web offer a one-stop shop to dealers of all sizes; from site design to inventory management tools, from inventory import to Search Engine Marketing. We transform your dealership website into a 24-7 showroom for your customers and empower your sales team with the right back-office tools.
Captivate your customers with an easy to use dealership website; a website that informs, engages and earns their trust. The longer your customers stay on your dealership website, the more comfortable they become with your website and the idea of purchasing a vehicle from your dealership. That's why making the customer's experience pleasant and informative is essential and our top priority.
Tech Prime Web's Auto Dealership Solution Features:
Allows visitors to look through your autos offers listings 24 hours a day, 7 days a week, 365.25 days a year
Easily keep your auto listings updated - no HTML coding required to add, delete, or modify listings
Built-in image manager - upload photos via your web browser, either when creating new listings or modifying an existing one. If photos are not uploaded for a property, a "photo not available" image will be automatically displayed for the listing.
Add unlimited car images
MySQL database back-end - Fast, mySQL is included with our hosting plans
Automatically thumbnails - smaller versions of your images are automatically created through the GD library.
Secure - no one but you can change your listings.
Viral Marketing - visitors can email listings to their friends right from the Auto Dealership Solution.
Showcase specific properties - built-in featured listing manager allows you to place special offerings right on your front page.
Flexible search - browse autos according to whatever criteria visitors like
Configurable forms - Don't like the form choices included in the Auto Dealership Solution? Change them to meet your needs!
Supports CSS stylesheets.
Multi-language capable
and Much, Much, More...
Feel free to call us or fill our online form and we would get back to you...